NendoGuide is a free app for Android and iOS, providing information about over 2800 Nendoroids, Nendoroid Dolls, Playsets and more. The app supports all Nendoroid collectors with useful functions like creating lists of Nendoroids, mark some of them as pre-ordered and share the lists with your friends (who don´t need the app). Use the community functions to see the most popular ones and don't oversee a single pre-order deadline.
NendoGuide features in a nutshell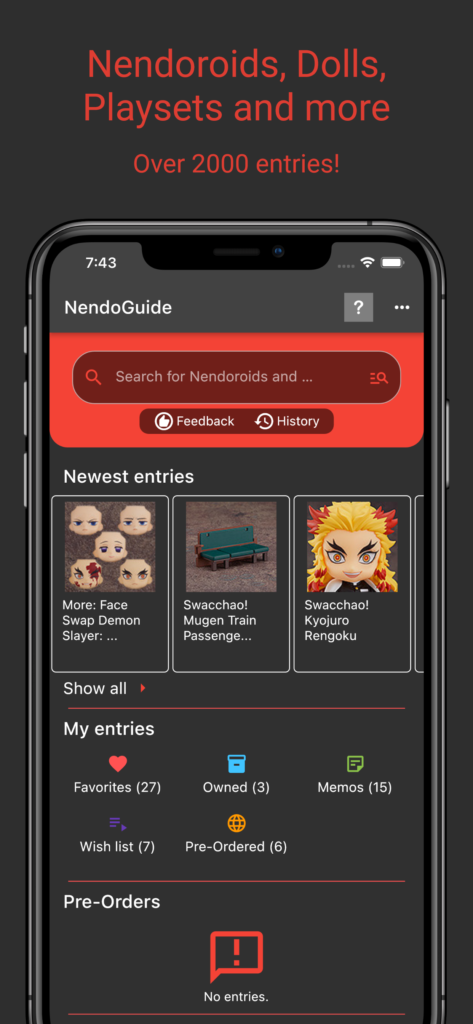 Find all Nendoroids, Dolls and Playsets
Use the Nendoroid overview to find all Nendoroids, Nendoroid Dolls, Accessories and Playsets; and use the search function to find Nendoroids of a specific series, release dates or sculptors.
The home screen shows you the newest entries added to NendoGuide, current pre-orders (which you might not want to miss), some pre-defined and all your self-added lists and community functions like an overview of the trending Nendoroids right now.
Use the feedback button to provide ideas or problems you have with the app directly to our team.
Check the images, descriptions, series, release dates and all the other information
Every Nendoroid page contains lots of information about that figure. Use the heart and box symbol to mark the Nendoroid liked or owned to build your personal inventory. Create your own lists to track where your Nendoroids are set-up or which ones you want to buy next.
Find information about the series, manufacturer, prices (which conversion to some currencies), release dates and more.
Tap on one of the text information to instantly search for it in all Nendoroid entries.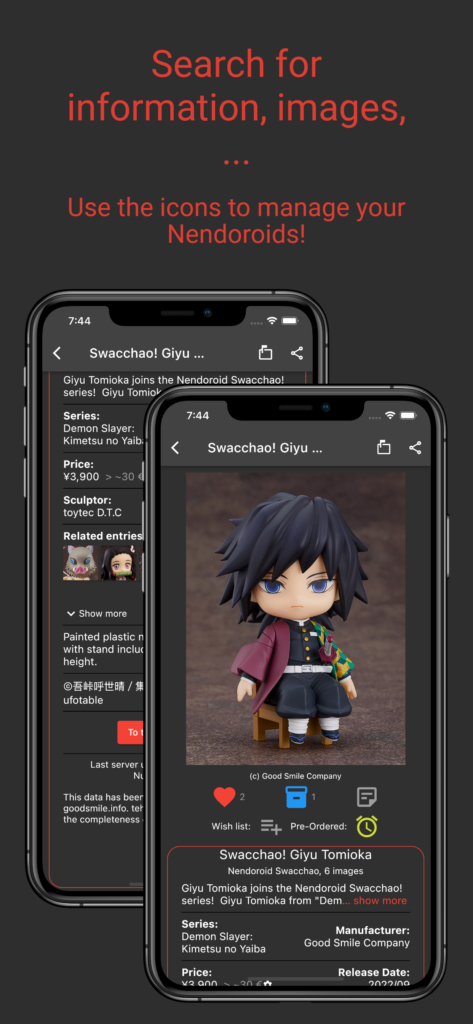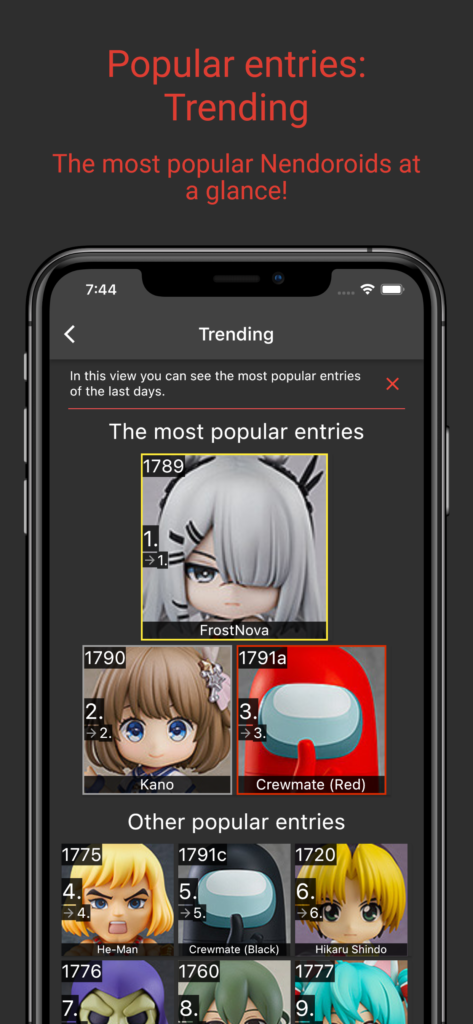 Trending Nendoroids
See the currently trending Nendoroids – those with more views and interactions than the rest of them. This shows which entries are most popular right now.
The Trending view also reveals the previous rank so it is possible to see the figures which the most public interest in a glance.
Just tap on one of the images to instantly see more information about the Nendoroid.
It also works vice-versa: If you check Nendoroid information, it will show you that this specific figure is trending right now.
Find accessories and more
Use the series and category lists to look for all series, Nendoroid Dolls and their accessoires or playsets. With the filter function, it is easy to find what you are looking for.
The numbered list provides you with all Nendoroids ordered by number from #001 (or the other way round).
There is also a light and dark theme available, so choose the one you like most.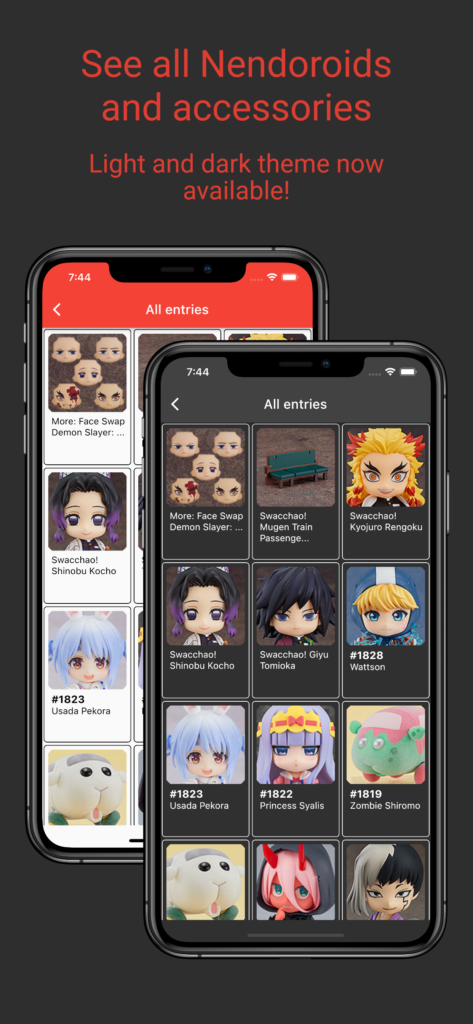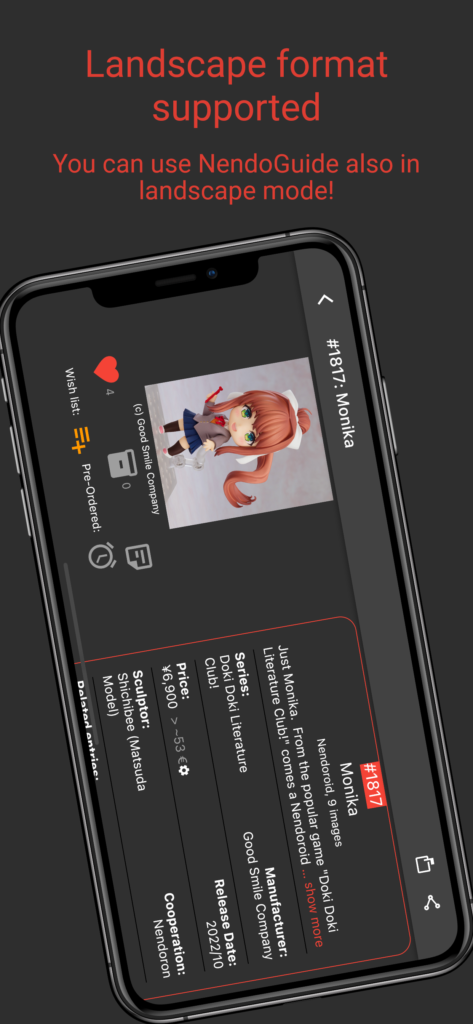 Landscape mode
NendoGuide also supports a landscape mode on all mobile devices (smartphones and tablets). This is a good possibility to get more data onto the screen, especially if you are using a tablet.
Available in 3 languages
NendoGuide is available in 3 languages: English, Japanese and German.
The English and German versions contain English entries while the Japanese version contains Japanese entries.
And this is all free?
Yes, it is! Of course, providing you with NendoGuide and the infrastructure behind is not free, so we are using advertisements and product placements to cover the cost. Please support us by buying the "Ad-Free" version of NendoGuide in the app-internal shop to support us and the development of NendoGuide long-term.