Touken Danshi Higekiri is now a Nendoroid Doll! "From the popular PC browser and smartphone game ""Touken Ranbu -ONLINE-"" comes a Nendoroid Doll of Higekiri, one of the prized swords of the Minamoto family. Nendoroid Dolls feature the same Nendoroid heads, but an alternate doll-like body that is highly articulated and can easily be dressed-up into different outfits while still remaining a palm-sized action figure! Be sure to add the gallant Higekiri in his carefully recreated uniform to your collection! *Skin tone of this Nendoroid Doll is a special color to match that of the original character. Set Contents: Figure (Bare leg parts included.) Sword (Sheathed and Unsheathed) Jacket Shirt Slacks with Belt Attached Socks Loafers (With Magnets in Soles) Cord Parts for Right Hand (*Attach to figure at own risk.) Interchangeable Hand Parts (Closed Hands (Left/Right) / Sword Gripping Hands(Right) x2 Versions) Magnetic Base (For Magnetic Soled Shoes) Articulated Stand" Also available: Nendoroid Doll: Outfit Set (Higekiri), Nendoroid Doll Hizamaru, Nendoroid Doll: Outfit Set (Hizamaru) ■What are Nendoroid Dolls? http://www.goodsmile.info/en/nendoroiddoll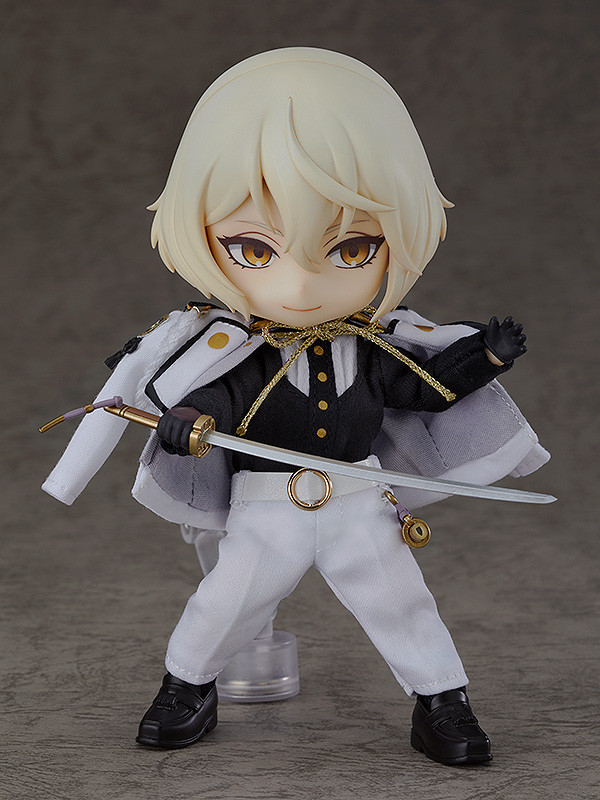 ©2015-2020 DMM GAMES/Nitroplus
All images © by GOOD SMILE COMPANY, INC.
Related entries:

19 more entries have been found. See them all in the NendoGuide app!