"I've arrived! Shinsengumi's First Unit Captain, Okita Souji!" From the popular smarthphone game "Fate/Grand Order" comes a Nendoroid of the saber class servant Okita Souji! This special Ascension version includes all the parts that are included with the standard version together with bonus parts for even more display options! In addition to her cheerful standard expression face plate, a serious combat expression face plate is included. Saber's sword "Kashuu Kiyomitsu" is included and can be displayed either sheathed or drawn. The Ascension version also comes with Saber's Coat of Oaths for recreating her Third Ascension appearance, her sword Kiku-Ichimonji Norimune and a face plate as though saying "Victory for Okita!" A mouth part to display her coughing up blood is also included along with a forehead sticker to give her a somewhat comical distressed expression. Be sure to add her to your collection! Also available: Nendoroid Saber/Okita Souji Set Contents: Back and Front Hair Parts Face Plates (x3) Bodies (x2) Right Arm Parts (x3) Right Hand Parts (x4) Left Arm Parts (x3) Left Hand Parts (x3) Right Leg Parts (x2) Left Leg Parts (x2) Kashuu Kiyomitsu (Drawn, Scabbard + Hilt) Kiku-Ichimonji Norimune (Drawn, Scabbard + Hilt) Blood Coughing Part Forehead Stickers (x3)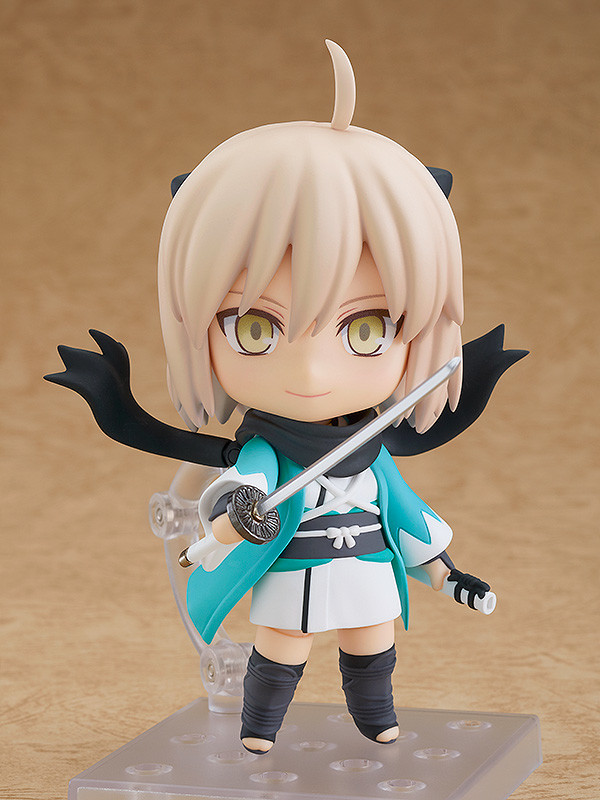 ©TYPE-MOON / FGO PROJECT
All images © by GOOD SMILE COMPANY, INC.
Related entries:

54 more entries have been found. See them all in the NendoGuide app!
Open in the NendoGuide app