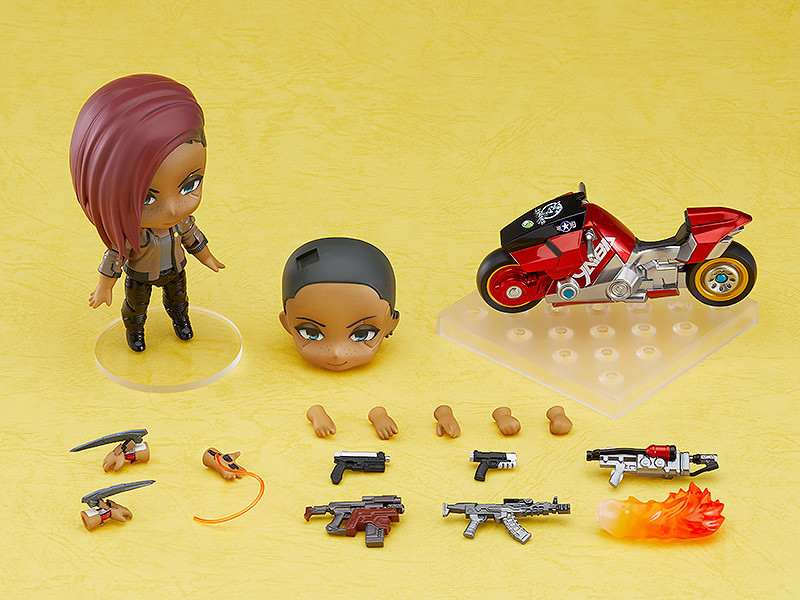 Who are you? From the highly anticipated action-adventure RPG Cyberpunk 2077 comes a Nendoroid of the protagonist, V! Nendoroid V comes fully articulated sporting the leather jacket seen in the game trailers, complete with SAMURAI logo on the back. For cyberware, Nendoroid V is equipped with Nanowire and Mantis Blade hand parts. Also included are 2 weapons so you can enjoy creating a variety of scenes. The deluxe set includes 3 additional weapons, a flame effect part, and the unforgettable Yaiba Kusanagi bike! Be sure to add Nendoroid V to your collection and enjoy bringing the Cyberpunk 2077 world to life! Set Contents: Back and Front Hair Parts Face Plates (×2) Body Right Arm Part (Articulated) (×1) Right Hand Parts (×4) Left Arm Part (Articulated) (×1) Left Hand Parts (×3) Right Leg Part (Articulated) (×1) Left Leg Part (Articulated) (×1) Nanowire with Hand Parts Mantis Blade Hand Parts (×2) Arasaka JKE-X2 Kenshin Kang Tao G-58 Dian Militech M-10AF Lexington Militech Ajax Budget Arms Flamethrower Yaiba Kusanagi Motorcycle Also Available: Nendoroid V: Male Ver.DX, Nendoroid V: Male Ver., Nendoroid V: Female Ver.
CD PROJEKT®, Cyberpunk®, Cyberpunk 2077® are registered trademarks of CD PROJEKT S.A. © 2020 CD PROJEKT S.A. All rights reserved. All other copyrights and trademarks are the property of their respective owners.
All images © by GOOD SMILE COMPANY, INC.
Related entries:

Open in the NendoGuide app