"Cheers, love! The cavalry's here!" From the globally popular multiplayer first-person shooter 'Overwatch' comes a Nendoroid of Tracer! The Nendoroid comes complete with a variety of optional parts to add effects for her abilities, interchangeable bent legs, and hair options that can cover up her eyes to recreate her iconic poses from the game! Also included are Tracer's trademark pulse pistols, along with open hand parts to pose her as without her guns, like when she activates her recall ability. Equip her pulse bomb to pose Tracer activating her ultimate ability! The Nendoroid is fully articulated, allowing her to be posed in many different ways, and has been carefully sculpted and tuned to ensure that the joints do not stand out, keeping Tracer's unique appearance in tact. Be sure to add the first of the Overwatch Nendoroid series to your collection! ■ OVERWATCH x GOODSMILE COMPANY Special Site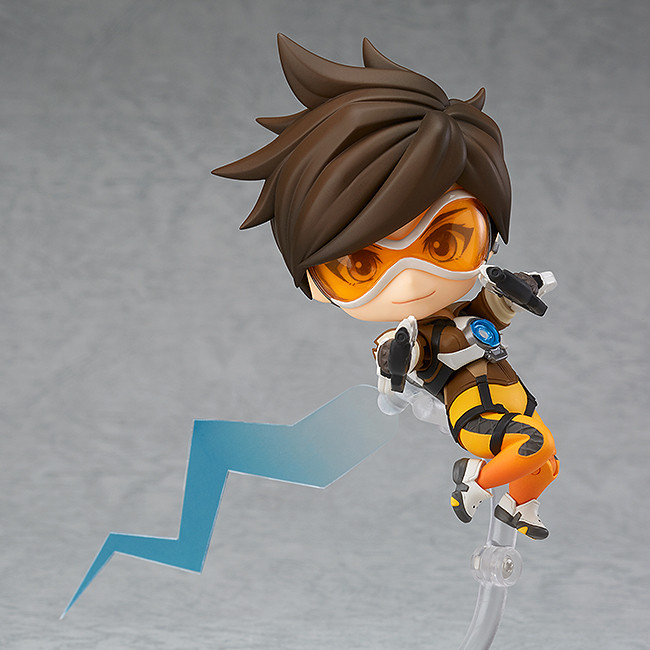 © 2017 Blizzard Entertainment, Inc. All rights reserved. Overwatch, the Overwatch logo, and Blizzard Entertainment are trademarks or registered trademarks of Blizzard Entertainment, Inc. in the US and/or other countries. Visit us at gear.blizzard.com
All images © by GOOD SMILE COMPANY, INC.
Related entries: